Picnic or concert in the park at Kirstenbosch Botanical Gardens
In the summer months, an outdoor concert in the gardens at Kirstenbosch is a must.  When its cooler, you can take in the spectacular layout of the gardens and enjoy a walk along the 'Boomslang' (meaning Tree Snake, so named because the structure was inspired by the skeleton of a snake), an aerial walk-way  that is a steel and timber bridge that winds its way through and over the trees of the Arboretum.  Afterwards you can take in a light lunch at Moyo Restaurant and dine on delicious African cuisine from all over the continent, not just South Africa.
Abseil Table Mountain
Apart from simply visiting this natural wonder of the world, an adventure that will simply blow your mind is to abseil Table Mountain.  (Note: this may apply to adrenalin junkies only!) The views are utterly incredible and you will thrill at the dizzying height of abseiling for 5-10 minutes looking out over the Atlantic Ocean and Camps Bay.  Get in touch with www.abseilafrica.co.za for more details and enjoy Table Mountain with a difference. For the less adventurous, a trip up in the cable car is always a more relaxing alternative.
A Winelands Day Trip
The Cape Winelands are world-renowned for their outstanding wine production and you could take several days to enjoy all the area has to offer. If you're driving through the towns of Stellenbosch, Paarl and Franschoek (which lie next to each other about an hour outside of Cape Town) though, be sure to pencil in exploring the various food and pairing experiences at farms like Spice Route, Groot Constantia and Spier.
Robben Island
No visit to Cape Town would be complete without a tour of Robben Island where former President Nelson Mandela and others who fought for freedom in South Africa, were incarcerated. The tour starts with a bus drive around the island with a very informative guide explaining the history of the island and the prison. Robben Island is about a 30-minute ferry ride from Cape Town. The tour of the prison is a sobering reminder of the dark history of Apartheid in South Africa.
Free Walking Tour of Bo-Kaap
The neighbourhood of Bo-Kaap is known for its colourful houses and is one of the most Instagrammable areas in the city,  but it's more than just pretty houses, many of the residents are descendants of former slaves and during Apartheid, the neighbourhood was designated as a Muslim-only area. The diverse community is very open and welcoming considering people constantly stop in front of their homes to take pictures. Twice a day from Motherland Coffee Company in Mandela Rhodes building you can take a free walking tour from 2:00pm to 4:20pm See the colourful houses, smell the spices of the East, hear the mosques calling for prayer, let the Cape Malay food tempt your taste buds and get a feel of what else to do in Cape Town. Check out http://www.nielsentours.co.za/capetown-2/ for more
Penguins!
Need we say more? Who doesn't love these feathered black and white waddlers with their braying voices and beady eyes made famous in films like Happy Feet (and for good reason!) – penguins on land are cute but clumsy and do seem to be doing a little dance wherever they go. It's something to behold, especially en masse and Boulders Beach near Simon's Town is home to a colony of more than 2 100 African penguins (previously known as Jackass Penguins) which are classified as an Endangered species.
Photo Opportunities
Apart from obviously observing the penguins in their natural habitat, watching them swim and dive, feed their young (depending on the time of year that you visit) and preen themselves, you will have ample opportunity to take advantage of the glorious surroundings. Protected from the wind, strong currents and big waves by giant granite boulders (hence the name) rising from the clear waters of the Atlantic contrasting on the white sandy shoreline, you will want to make sure you've got your camera at the ready.
Support Nature Conservation
The area is protected as it falls under the Table Mountain National Park Marine Protected Area. The colony is one of the few land-based African penguin colonies in the world and as such, is rare which has made it a popular tourist destination. As seen on the South African National Parks site: "The Boulders Penguin Colony was established in 1983 and numbers increased from surrounding island colonies to bring breeding numbers to 3 900 birds in 2005. Since then there has been a decrease. The 2011 figures sit at around 2100 birds at Boulders Penguin Colony. The decline at Boulders and the global decline is the suspected result of:
• habitat destruction
• effects of oil spills and other marine pollution
• impacts of global warming on fish stocks and fish movement
• over fishing
• irresponsible tourism activities
• domestic pets/animals"
Your entry fee of R76 per adult per day and R41 per child, per day goes towards the conservation of this pristine area and its flora and fauna.
Sun, sea air and ice-cream!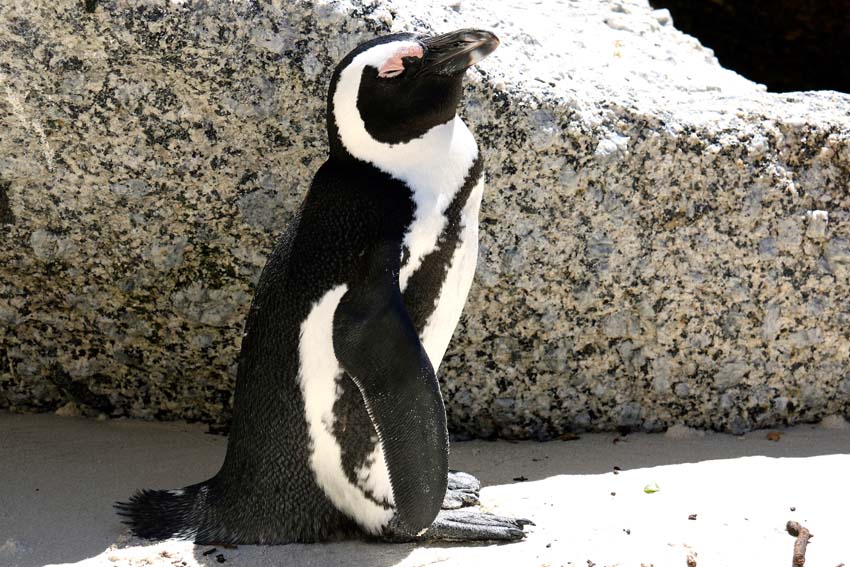 The fact that it is in a conservancy ensures that the Boulders beaches are always in impeccable condition, safe and inviting. It's a favourite spot to take local children to enjoy a swim in the warmer months because of being so protected – so pack a picnic basket and enjoy a day out with the family! Alternatively, you might want to enjoy an ice-cream and a stroll along the board walk while you take in the scenery and the sights and sounds of the birds. There are also a number of nearby restaurants where you can enjoy a tasty meal with a view. Note that it is best to visit at low tide (so check the local tide table before you leave) and that alcohol on the beach (should you decide to picnic) is prohibited. During summer, parking is limited so be sure to hit the road early to secure your spot!
SEE the City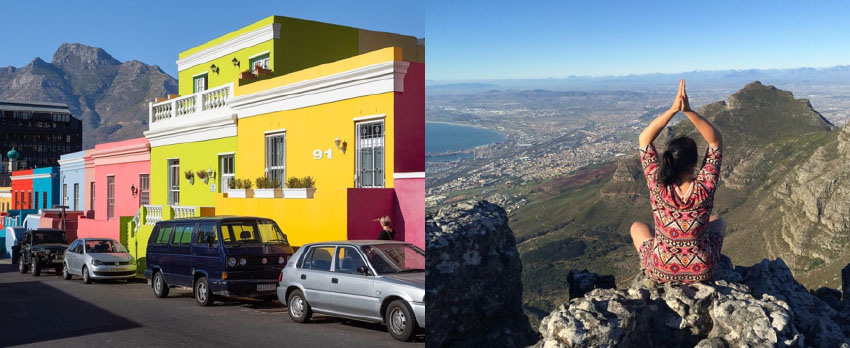 Take an Instawalk
If you want to experience a slice of life in Cape Town the way the locals do, then grab your mobile and join one the local Instawalks with CT Instagrammers – no one knows the city like the people who live in it and you'll very quickly get to see and explore lesser known haunts you'd otherwise not have been exposed to. Plus, you're likely to make a few friends along the way and take some great pics for the Gram.
Hike Lion's Head
Everyone knows that a sunrise hike up Lion's Head will give you unparalled 360 degree views of Cape Town to take your breath away. Grab a pair of trainers and be sure to tick this one of your list.
Hit a Local Market
With over 70 to choose from in and around the city, you're spoiled for choice! Whether it's artisanal food you're after, second-hand or antique goods or African arts and crafts, you can enjoy browsing one of the markets on a weekend morning and soaking up the Cape Town vibes, just like a local.
EAT the City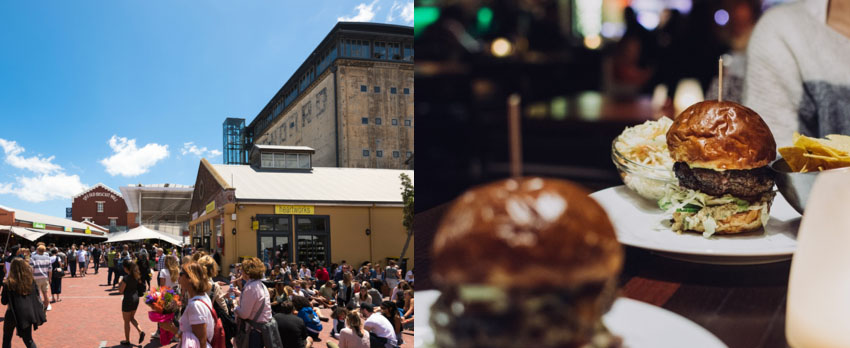 Fish and Chips
It's practically a Cape Town institution to enjoy a plate of fish and chips and again, you've a few places to choose from. You could take a drive to Hout Bay harbour and explore Mariner's Wharf or you could meander along to Kalk Bay and enjoy your meal taking in the sights and sounds of the harbour there. Even the Victoria and Alfred Waterfront is an option (albeit a slightly more commercial one).
Breakfast in Bree Street
Bree Street is home to a plethora of little coffee shops and eateries, perfect for a morning stroll and a place to have a bite to eat and enjoy a great cup of coffee. Explore on foot like a local!
Wine like the Locals
Wine is almost synonymous with South Africa's Mother City, which is hardly surprising since the Western Cape is the country's largest wine-producing region and is world-renowned for its outstanding wines. If you're keen to make a day of it, take a road trip to one of the local wine farms for a tasting or a food and wine pairing enjoyed with a view of the magnificent surrounds of the winelands. Constantia, Durbanville and Helderberg are all options.
Vegan or Vegetarian?
The growing trend towards healthier eating that leaves less of an impact on the planet has been firmly embraced in Cape Town culture and there are a number of restaurants that are plant-based as well as numerous main stream establishments that also offer vegetarian and vegan options on their menus. We recommend the Hungry Herbivore for our veggie-based friends and if you're in the mood for something a little more 'junk food' like, be sure to indulge at Lekker Vegan where you can enjoy a variety of vegan 'junk food' treats.
Fine Diners
Fine diners will have to plan in advance if they'd like to book a table at establishments such as The Test Kitchen, but there are at least 20 other excellent options to choose from that will delight not only your palate but provide an evening of absolute culinary gustatory pleasure.
Check out: The Hot List: The 20 Must-Visit Restaurants in Cape Town 2018: www.insideguide.co.za
You could also take a Food Tour of the City and Eat like a Local, here: www.tripadvisor.co.za
FEEL the City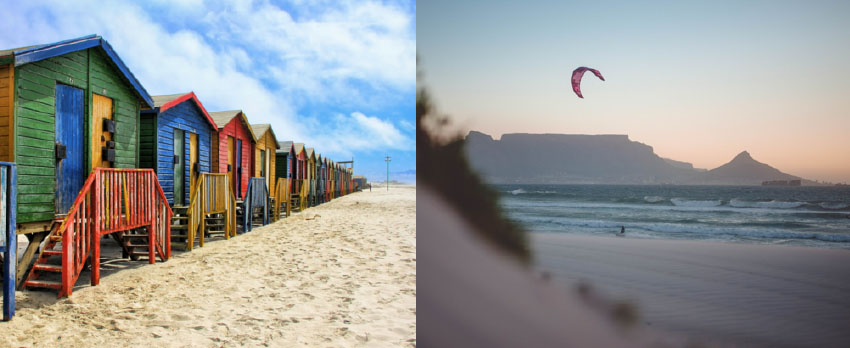 Beachin'
Whether during the day or at night, Cape Town's beaches are among the best in the world. Pack a picnic and enjoy the sunset in Clifton with the one you love. Or mozey down to Muizenberg for snacks and a little sand between your toes while you get a snap with the iconic coloured houses.
Kite Surfing
If the thrill of adrenalin and the rush of salt water over your skin and the wind in your hair is what gets you feeling most alive, book a day to enjoy kite surfing in Cape Town like a local. You could explore options in Bloubergstrand or Noordhoek, wind and weather conditions dependent.
The Great Outdoors
If being outdoors is what holds appeal, live like a local in Cape Town by taking in either a music concert, movie or sporting event in one of the many outdoor arenas in the city. It may be Kirstenbosch or Green Point. Check Facebook for relevant local events to choose from when you visit.
Touring
Sometimes you want the insight of a local guide who can share insider tips and provide more context for your experience. If you want to live like a Cape Town local and feel the city in a way that they do, book a walking tour through the CBD or Bokaap with one of the local tour guides. There are many others to choose from too, something for everyone that truly reflects the diversity and contrast of this incredibly colourful and vibrant coastal city you will never want to leave.