Spring has made a very sudden appearance in Cape Town, here are our tips on how to make the most of it!
Winter has come to an abrupt end and as if someone has flipped a switch, Spring is here. A few sweltering days have already given us an indication of the hot summer that lies ahead of us and we're not about to complain about it! In the name of ushering in Spring, we've rounded up ten fun outdoor adventures that our rental car can take you to around Cape Town!
Milnerton Market
The Milnerton Market takes place every weekend and public holiday and makes for a great day-outing. It is in fact no longer located in Milnerton, but in Paarden Eiland, with a majestic backdrop of Table Mountain. Unlike many over-curated markets these days, the market is an authentic flea market and the ideal destination for deal-hunting! Round up the gang and make a day of finding the perfect bargain!
Cherry-picking at Klondyk Farm
Nothing quite says summer like a basket and a belly full of cherries! Cherry-picking at the Klondyk Farm in Ceres is the ideal family activity that will keep the kids entertained while they harvest fruits for the next few weeks. The farm is located two hours outside of Cape Town and offers accommodation in case you want to make a weekend out of it.
Note that there is a designated cherry-picking season that opens toward the end of November.
Franschoek Wine Tour
The Franschoek Wine Tram takes you through the beautiful Franschoek Valley and stops at picturesque vineyards where you can enjoy world-class wines and cuisine against a breath-taking scenery. The tram itself is a vintage-style railway tram that allows you to hop on our off wherever at any point. Get your best friends together and spend the day reveling in the beauty of the Franschoek Valley.
Wild Flower viewing on the West Coast
Is it even Spring if you haven't been to see the West Coast's wild flowers? From August, several little towns along the West Coast, about an hour's drive outside of Cape Town, light up with colourful wild flowers. The closest wild flower destination is the Blauuwberg Nature Reserve, which has spectacular views on to Cape Town's cityscape and coastline. The wetland is located 30 kilometers outside of Cape Town, offers several hiking trails and is known for its rich biodiversity.
Bluebird Market
This bustling Friday-night market is a fun way to kick off the weekend. The market is located in Muizenberg, an area of Cape Town that has become a hub for creatives from all walks of life. On Friday evenings, Muizenberg locals gather at the Bluebird market for a few drinks, to enjoy the delicious culinary experiences on offer and to browse the clothing and jewelry stalls.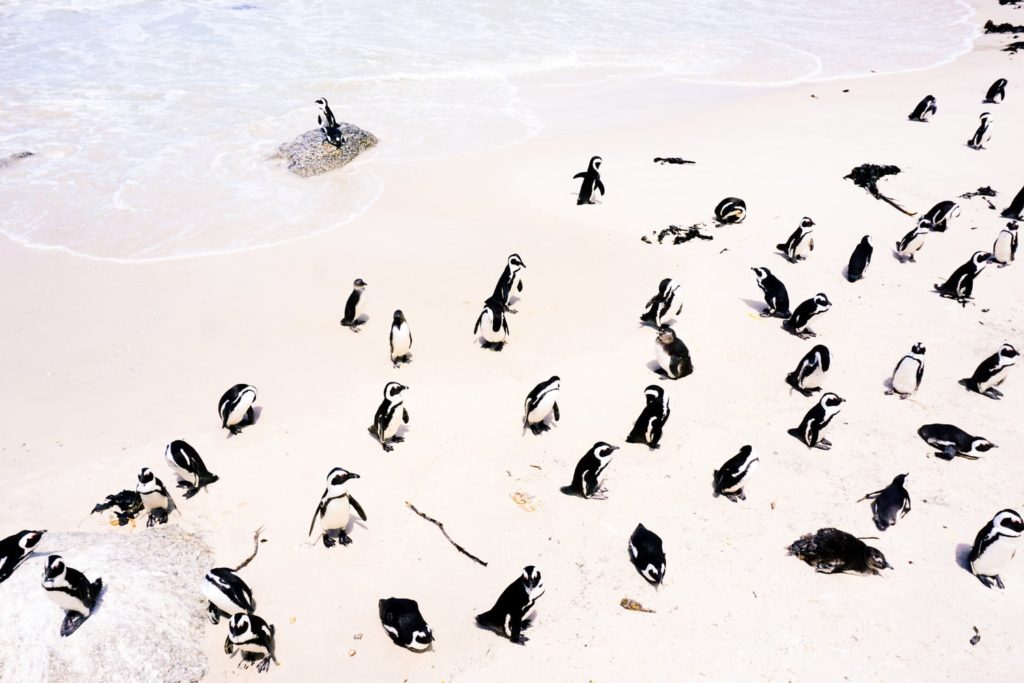 Penguin-watching at Boulders Beach
For a truly special and uniquely Capetonian experience, head to Boulders Beach in Simon's Town to hang out with the penguins. Boulders Beach is the home of a colony of African penguins and is located just 45 minute south of Cape Town. The area consists of three pristine beaches with a viewing deck for observing the penguins. The beaches are also suitable for swimming, so bring your swimsuit! Entry to Boulders Beach requires a conservation fee, so don't forget your wallet.
Galileo Open Air Cinema
Does watching cinema classics under a blanket and a magical ceiling of stars sound good to you? From October through to April, the Galileo Open Air Cinema will be screening movies at various open air venues again. From Kirstenbosch Gardens to Battery Park at the V&A Waterfront, all the venues are magnificient, as is the choice of film, which is typically a timeless movie that appeals to a wide audience. Galileo offers different packages, with the option to include a blanket, back rest and a box of chocolates. What better way to usher in summer than an evening spent watching your favourite movie under the open sky.
Hike Lion's Head
Lion's Head is the lion-shaped mountain that towers over Cape Town's City bowl and the Atlantic Seaboard. The hike to the top of Lion's Head serves as a perfect sunrise or sunset hike, offering breathtaking views over the entire city bowl, Table Mountain and the Atlantic Seaboard of Cape Town. The hike is a fairly manageable distance and can easily be done under 2 hours, but it's rather steep so make sure you're feeling up to the challenge. Be sure to take along a flask of coffee and some snacks to enjoy when you've reached the top!
Kirstenbosch Gardens
Take a drive to Kirstenbosch Gardens in Newlands and let yourself be amazed by the diversity of this botanical garden, which is considered one of the grandest in the world. Kirstenbosch Gardens is steeped in history, with the land being in use since the late 1400's. Spend the day walking through the picturesque garden and conclude your day with a picnic spread on Kirstenbosch Gardens' ample lawns.
High tea at the Belmond Mount Nelson Hotel
There is no celebration of Spring more refined than a high tea at Cape Town's Mount Nelson hotel. The Nellie, as she is affectionately known, offers a morning, afternoon and evening tea in a regal setting. Each tea sitting comes with a spread of assorted treats, as well as over 40 different teas and a tea sommelier that is on hand to guide you in the art of tea-tasting. Tea can be taken in the lounge, on the terrace or in the garden, in a formal yet beautiful environment.
Cape Town is a city for adventure and the warmer seasons suit it all too well – we've barely scratched the surface here, there's so much to do! What is your favourite activity to do in Cape Town?
Tips and tricks on how and where to find snow in the Western Cape of South Africa
A cosy cottage blanketed in dazzlingly white snow, a roaring fire in a stone fireplace, a good read and a mug of hot chocolate – it's the ultimate winter dream! Living in a country where the climate ranges from Mediterranean to subtropical, with sunshine aplenty and scatterings of rain, there's a certain kind of awe reserved for snow. Most South Africans maintain a child-like sense of wonder for it, especially because sightings of snow are limited to the movies for most. Luckily, there's a small window in winter where you'll be able to track down snow in certain areas of South Africa.
We've taken it upon us to collect information around some of the best areas in the Western Cape to find snow (all within driving distance from Cape Town), as well as how best to time your snow hunt. If you're heading to Cape Town for your next vacation, you may want to consider hiring a car and making a day trip in search of snow – the kids will love it!
How to track a snow front
 Most of the fun lies in the sense of adventure as you closely monitor snow forecasts and strategise when the optimal time is for the trip to kick off. Your snow hunt starts by keeping an eye on the weather forecast and maintaining a degree of flexibility, so that you'll be able to up and go for the day when there's a potentially snowy day.
To the uninitiated, we'd like to introduce the snow reporting website aptly named "Snow Report" (snowreport.co.za). Snow Report SA provides a comprehensive report of any potential snowfall in South Africa, as well as images of snow sightings, via its Facebook (Snow Report SA) and Instagram (@snowreportsa) pages. Its snow charts provide insights into how much snowfall is expected in which areas, and the website links through to webcams around the country that are set up to monitor snow. Snow Report is your ultimate tool for tracking snow and the best starting point for planning your trip.
Where to go
Matroosberg Private nature Reserve
 The Matroosberg Private nature reserve is an area that frequently sees a decent amount of snowfall when there's a cold front and is located a mere two-hour drive outside of Cape Town. The reserve is situated on the farm Erfdeel, a fully operational farm just outside of Ceres.
You have the option to stay in the oldest building in the area, the 100-year old Goatherder house, which is a quaint stone cottage that will meet all your expectations for the perfect rural winter getaway (including the stone fireplace!). The Goatherder house is nestled at the foot of the Matroosberg mountain and rather remotely situated. Note that there is no electricity, so you'll want to come prepared with warm clothing!
Klondyke Cherry Farm
The Klondyke Cherry Farm in Ceres is renowned for its consistent snowfall. What is the site of a cheery and colourful scene in summer, transforms into an idyllic winter wonderland in winter. While the snowfall is sometimes limited to dustings on the mountaintops, in a good season it can also snow so much that it covers the entire farm.
Klondyke is situated just two hours outside of Cape Town and can be visited for a day trip or an extended stay. The farm offers three self-catering cottages that are fitted with everything you'll need to keep you warm at night: electric blankets, heaters and a fireplace.
Swartberg Mountain Pass
If you're willing to venture a bit further from Cape Town, head to the Swartberg mountains near Oudtshoorn. It may be a lengthy five hour drive, but the Swartberg Mountain pass is often closed due to snow when there's a cold front, so you may very well luck into a proper snow sighting. While you're in the area, spend a few nights in Oudtshoorn, where you'll be able to find beautiful accommodation options that are steeped in grandeur and history.
De Wilge
If it's luxury you're after and you're happy to settle for beautiful, snow-capped mountains, you could consider heading to Nuy Valley in Worcester. Here you'll find De Wilge, an old wine cellar dating back to 1905, that has been transformed into two luxurious apartments.  The self-catering units are spacious and stylish, and the more luxurious of the two features a Jacuzzi and private bath that overlooks the mountains and a citrus orchard. When it's cold out, you'll be able to spot snow on the caps of the majestic Langeberg mountains.
Preparing for your snow hunt
Wherever you decide to go, it's certain to be cold, so make sure you're prepared for it! You'll need a good pair of boots, long tops and jerseys that can be layered, a quality jacket and spare blankets.
You'll also want to be comfortable in tackling somewhat rougher terrain, so be sure to hire a car that will meet the challenge. At Vineyard Car hire, we can offer you anything from a 5-seater Toyota Fortuner to a 4×2 Toyota RAV4.
If you're lucky enough to come across heavy snowfall, make the most of it! Can you really enjoy your trip without a few gimmicky snow games? It may be a cliché but building a snowman is something of a rite of passage when it's snowing – there's no way you can get away without building one. And don't forget the snowball fight, as you've seen it in all of your favourite Christmas movies!
So there you have it, as unlikely as it may seem – if you pay attention to the forecast and know where to go – you could very well enjoy some decent snowfall in Africa!
7 realistic ways to save smartly so you can travel more!
With the costs of flights, accommodation and car hire, travel is no cheap affair but isn't it oh-so worth it? You simply cannot put a price on the thrills of discovering a new destination and the memories you make on every journey. So, in the name of travel, we've put together a few useful tip that can help you save toward your next trip!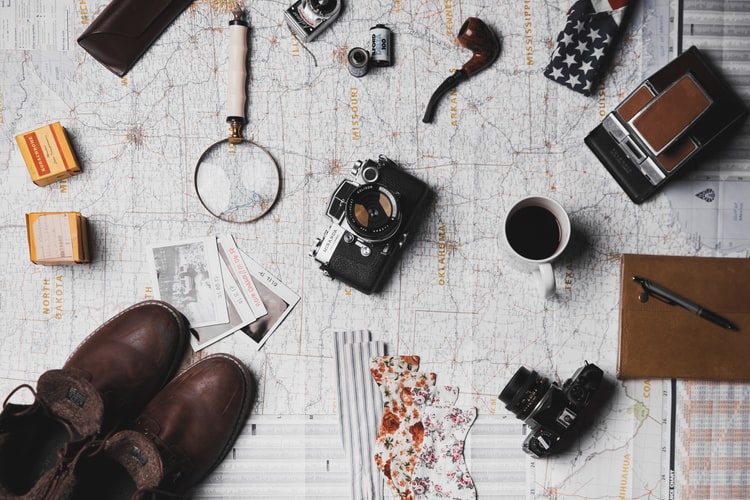 Save on subscriptions
This is an easy and relatively pain-free way to shave off those unnecessary expenses. Examine your subscriptions and consider whether a) they are essential and b) you can find a loophole to spend less. You might not really need that magazine every month that you briefly page through before you toss it aside, or that gym subscription that you hardly use.
If you subscribe to music streaming services such as Spotify or Apple music, or movie streaming services such as Amazon Prime, Showmax or Netflix, make a point of choosing your favourite one and cancelling the others. Once you've selected your favourite, you can look into getting together with friends or family to share an account, thereby significantly reducing your expenses.
Go the extra mile
You'll be surprised at how much you can save by just putting in a little bit of extra effort: the premium you pay for convenience adds up! Scan your bank statements for routine expenses that you can do without or reduce. You might want to consider packing your lunch at home, or carrying a flask of coffee with you instead of paying for multiple coffees to go. Instead of rushing to the shops every evening before dinner, plan for the upcoming month and take a relaxed Saturday morning to buy everything you need in bulk (or order it online!) This way you'll save on bulk deals.
Often cutting back on convenience not only helps you save, but also reduces your impact on the environment, so it's a double win!
Flog your stuff
Let's be real, most of our homes are filled with a whole bunch of stuff that we hardly ever used. If you haven't used it in the past 6 months, chances are you won't be needing it in the next 6 months either. Scan your house for things that don't serve you anymore – that old sewing machine you never use, those golf clubs that haven't seen daylight in a few years – and sell them off. Not only will it help flesh out your travel fund, but you'll also be able to simplify and de-clutter your living space.
With the help of Facebook Marketplace, it's also never been easier to pass on possessions you no longer have a need for. Snap a quick photo, upload it and usually in a matter of days you'll have sold your stuff to someone that has much better use for it.
Ditch a bad habit
Got a bad habit that doesn't serve you? This is the perfect opportunity to ditch it! Take the time to work out how much you spend on those cigarettes in a year and you'll be kicking yourself. Maybe those post-work cocktails can be limited to one evening a week. You'll be surprised by how much you can reduce your expenses by cutting back on habits that don't necessarily add value to your life. Needless to say, you'll be winning on two fronts: your body will thank you AND you'll be watching your travel fund swell up!
Second hand clothing
As you may have picked up by now, there is often a correlation between saving money and protecting the earth: consumption does not serve our environment! Fast fashion is not only expensive, but also costs our environment. Instead, you could save up around 75% of a clothing item's price by hunting for its second hand counterpart.
Plus, the thrill of finding a quality, stylish thrifted garment is incomparable with walking into a retailer and picking up whatever the latest trend may be.
Do free things
They say the best things in life are free! And how much better if you're saving for an awesome trip overseas while you're at it. Rather than pursuing activities that will cost you an arm and a leg, find ways to enjoy the place you live in free of charge. This could be something like having a picnic at a lake nearby, or looking for museums or exhibitions that don't charge an entry fee. If you're feeling altruistic, you could sacrifice your time to support a local charity.
If you'd like to build on your knowledge, there are a myriad of free resources on the internet to help you learn anything from coding to quantum mechanics. You may even want to consider using free apps to learn the local language of the next destination you plan on travelling to!
Save on luxuries
Okay, so self-care is all the rage these days, but what if your self care is travelling? You might want to think about cutting back on some luxuries so that you can allocate that money towards your next trip.
You can easily go with fewer haircuts, fewer visits to the spa or fewer manicures. You might have to "rough it" a little until your next trip but think of the satisfaction of booking that flight to an unfamiliar destination!
Saving money may seem daunting at times, but with these tips it's definitely made a lot easier – without compromising your quality of life! Let us know how YOU save money for the next time you hit the road (or air!)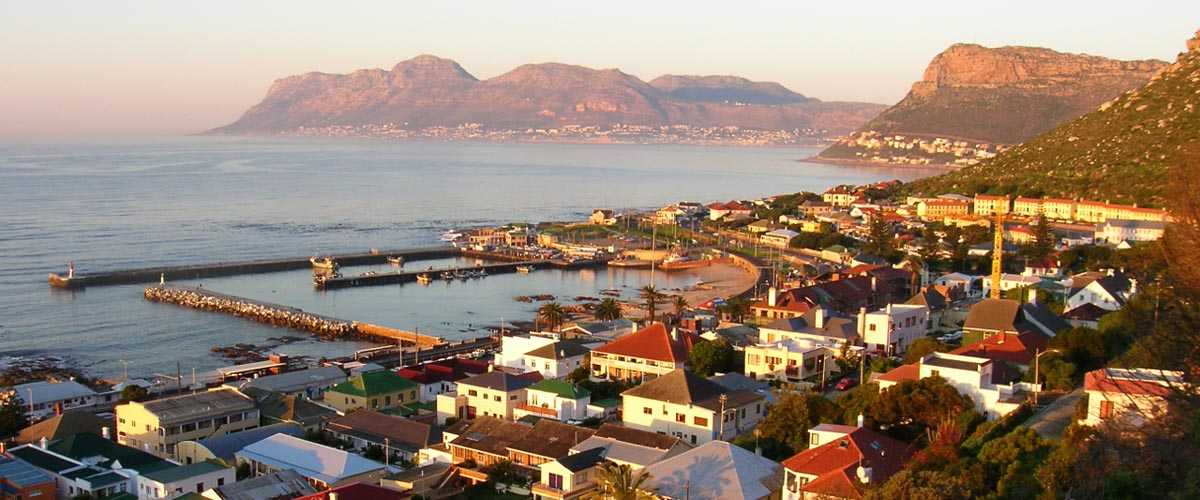 Sometimes the journey alone is the destination. Especially when we're on holiday, we tend to pack our days with activities: things to do, things to see, things to tick off our bucket list. But sometimes the most precious moments are the ones in between: taking a deep breath of fresh, salty air, pulling over to take an unexpected dive in an icy tidal pool or maybe just rolling down the window of your car with your favourite song blasting.
Consider this. Maybe don't plan your day this time, but pick a route and let a day of adventure unfold itself. Who knows, you could discover your new favourite coffee place on the way or capture the most magical photo you've ever taken. Cape Town is jam-packed with scenic drives that will knock your socks off every single time, no matter how many times you've done them! We put our heads together to come up with our absolute favourite drives in Cape Town. Give them a go!
Chapman's Peak Drive
Okay, so this one's a classic. In fact, it's known as one of the world's most scenic drives and it does not disappoint. Think 9 kilometres of coastline stretching from Noordhoek to Hout Bay, with panoramic views on the Atlantic Ocean on one side and a spectacular view of the Western Mountains of the Cape Peninsula on the other. Apart from the mind-blowing scenery, you might also want to take a moment to admire what an exceptional feat of engineering the road is. It took seven years to build (completed in 1922) and later received an excellence award for rockfall protection (that was in 2004).
The spectacular scenery looks even more magnificent in the evening light, so when you're planning your drive, time it so you catch the sunset.
Highlight:
If the spectacular panoramic scenery itself isn't enough of a highlight for you, you might want to keep a pair of binoculars handy: in the right season (typically toward the end of winter or early spring, so June through to November) it's likely that you'll be able to spot a Southern Right Whale. Your chances of a sighting are especially high during peak calving season, which is in July and August.
Don't forget to bring:
If nothing else, bring your camera! There will be several arresting views you'll want to hold on to forever. This is also the perfect drive to pack a picnic for there are areas where you can pull over perfect for a picnic. What better way to watch the sunset than with an Aperol Spritz and a snack in hand!
More practically, don't forget to bring cash or your card or else you won't be able to get past the toll gate. If you're planning on doing some whale watching, be sure to pack your binoculars.
Muizenberg – Kalk Bay – Simon's Town
This drive takes you along the eastern coast of the Cape Peninsula, from Muizenberg over Kalk Bay, to Simon's Town. Apart from the beautiful scenery, the stops along the way are packed with cultural experiences and little gems of coffee shops and bakeries.
Highlight:
In Kalk Bay, make a stop at the harbour and order a traditional fish and chips. The fish is straight out of the ocean and tastes delicious. Take a walk along the harbour wall and you might just catch the fat resident seal scavenging for some leftovers.
Make a turn past the Ice Café in Kalk Bay, the unofficial purveyor of the best ice cream in Cape Town. They have a wide range of ice creams and sorbets, with something for everyone.
For more wildlife action, be sure to visit Boulder's Beach, somewhat further along the coastline past Simon's Town, where you can watch penguins bathing in the clear water.
Don't forget to bring:
Be sure to pack your swimming trunks! This drive is littered with tidal pools that make the perfect refreshing pit stop for a dip in ocean water. The water on the Indian Ocean is warmer than on the Atlantic Ocean, but bring a sweater to keep you warm after your swim.
 Gordon's Bay – Hermanus
From Gordan's Bay through to Hermanus, this drive takes you along another beautifully scenic route past a bay called Koel Baai. If you're up for something more active, you can make a stop along the way for the Crystal Pool hiking trail. As the name suggests, this hike takes you past several beautiful pools perfect for swimming in.
Highlight:
On the right day with a light wind, you can stop off at Koel Baai Beach to take a walk on the pristine beach and watch surfers slide into barrels in crystalline waters.
Don't forget to bring:
If you plan on hiking, bring a pair of good shoes. Otherwise, a good beach towel, an umbrella and some snacks will make for the perfect beach day at Koel Baai Beach.
West Coast
For the ultimate road trip feel, head up the West Coast over Eland's Bay to Lambert's Bay. Once you've hit the open road, you'll have dry, arid plains stretching out ahead of you. The raw natural beauty of this area is unmatched.
Highlight:
If you have the stamina, you can head all the way to Lambert's Bay where you'll find a magical open-air restaurant called Muisbosskerm. The restaurant offers an unrivalled buffet with a wide range of seafood, as well as magnificent sea views. Be sure to book in advance as it's only open on certain days!
Don't forget to bring:
Both in winter and summer, the air on the West Coast gets chilly in the evenings. Be sure to pack a warm jacket to keep comfortable!
We've barely scratched the surface of scenic drives in Cape Town, but these are undoubtedly some of the best – enjoy the ride!
Younger children have some very 'unorthodox needs', these can include the need to have enough space to move freely without noise restrictions while achieving the illusion of no rules. Not to mention the need for freedom and fun to be unboxed, the need and yet-to-be-bottled desire to let all forms of being a child well up from inside them and manifest in whatever shape or form this may appear.  For clarification, we are defining "kids" in this article as those little people that are independently mobile, extraordinarily energetic, somewhat programmed with the default to climb, run, jump, get lost and most often create an undercurrent of unpredictable chaos for most (barely sane) parents.
With this in mind, we have searched for an element of fun and adventure for the tourist parents needing something specifically geared at their kid's needs or those mentioned above (also frankly said, something fun to give our desperate parents the "break" they need from constantly policing their kids in more adult spaces).  So here are our top 4 day trips to "hit the spot" for both the tourist and the kid inside you and your travelling family.
Noordhoek Farm Village
So many options for your kids and also the child or adult in you… something for every mood or weather, all with the added atmosphere of all things Cape Town.   With enough to be either outdoors or indoors, feeding a desire to browse or shop for curios, restaurants/cafés with meal options for all ages. There are also free playgrounds to suit varying ages in close proximity to most of the restaurants, literature or art to nurture the culture inside you, whether you want to experience sophistication while the rest of the family enjoy an environment that offers comforting down-to-earth settings. This spot seems to offer it all. (www.thefarmvillage.co.za)
Acrobranch Kids Outdoor Playpark and Treetop Adventures
If you're wanting a combination of challenging fun, nature, learning and practising motor skills, balance and logic for you and the kids, in a safe and well-supervised environment, then swinging through trees, dangling from branches and balancing in the air on floating ladders, walking on ropes and climbing nets, is for you!!  This will prove to be a great family day outing; surprising you with a few things learned which you may not have known about your kids or yourself. (www.acrobranch.co.za)
Cool Runnings Tobogganing Family Park
This is something for the whole family who is and behaves three years and older.  A downhill half-pipe, winding through twists, curves, s-bends and even a tunnel, measuring a distance of 1.25 kilometres of bobsledding speed and fun!  The first of its kind in Africa…this fast and safe runway of steel with top-notch bobsleds on wheels packs a challenge of skill and speed for the family wanting to enjoy an age-appropriate thrill.  Gratefully no one has to climb the hill to the top (which offers an amazing view of Cape Town), and yes… there is a brake installed in each bobsled should you feel the need for less speed!  Cool Runnings also offers the affordable opportunity to feed your hunger and quench your thirst on site after your tobogganing fun, making it a great one-stop destination for the family. (www.coolrunnings.capetown)
Bugz Play Park
An explosion of colour and fun greets you as you enter this play park… a kids delight!  All outdoor and indoor activities are specifically designed around the pure joys of simply playing.  This park offers endless opportunity for the young family to play together (suitable for kids ages 2-10 years), in the form of slides, rides, jumping castles, playhouses, sandpits, tree houses, a castle, obstacles to crawl in, over and under and more.  With many free play areas, as well as many individually charged rides of all sorts; you can decide when you think everyone has had their fill.  There are also food venues on site to refuel your families for more fun should you want to maximise the time to play! (www.bugzplaypark.co.za)
There is always more to see and do in and around Cape Town that can be mentioned in one sitting!  A city suited for everyone – you may just have to extend your stay in the Mother City or keep adding to your "list of places to see" so that the next available weekend will reveal no shortage of destinations to pick from.
Picnic or concert in the park at Kirstenbosch Botanical Gardens
In the summer months, an outdoor concert in the gardens at Kirstenbosch is a must.  When its cooler, you can take in the spectacular layout of the gardens and enjoy a walk along the 'Boomslang' (meaning Tree Snake, so named because the structure was inspired by the skeleton of a snake), an aerial walk-way  that is a steel and timber bridge that winds its way through and over the trees of the Arboretum.  Afterwards you can take in a light lunch at Moyo Restaurant and dine on delicious African cuisine from all over the continent, not just South Africa.
Abseil Table Mountain
Apart from simply visiting this natural wonder of the world, an adventure that will simply blow your mind is to abseil Table Mountain.  (Note: this may apply to adrenalin junkies only!) The views are utterly incredible and you will thrill at the dizzying height of abseiling for 5-10 minutes looking out over the Atlantic Ocean and Camps Bay.  Get in touch with www.abseilafrica.co.za for more details and enjoy Table Mountain with a difference. For the less adventurous, a trip up in the cable car is always a more relaxing alternative.
A Winelands Day Trip
The Cape Winelands are world-renowned for their outstanding wine production and you could take several days to enjoy all the area has to offer. If you're driving through the towns of Stellenbosch, Paarl and Franschoek (which lie next to each other about an hour outside of Cape Town) though, be sure to pencil in exploring the various food and pairing experiences at farms like Spice Route, Groot Constantia and Spier.
Robben Island
No visit to Cape Town would be complete without a tour of Robben Island where former President Nelson Mandela and others who fought for freedom in South Africa, were incarcerated. The tour starts with a bus drive around the island with a very informative guide explaining the history of the island and the prison. Robben Island is about a 30-minute ferry ride from Cape Town. The tour of the prison is a sobering reminder of the dark history of Apartheid in South Africa.
Free Walking Tour of Bo-Kaap
The neighbourhood of Bo-Kaap is known for its colourful houses and is one of the most Instagrammable areas in the city,  but it's more than just pretty houses, many of the residents are descendants of former slaves and during Apartheid, the neighbourhood was designated as a Muslim-only area. The diverse community is very open and welcoming considering people constantly stop in front of their homes to take pictures. Twice a day from Motherland Coffee Company in Mandela Rhodes building you can take a free walking tour from 2:00pm to 4:20pm See the colourful houses, smell the spices of the East, hear the mosques calling for prayer, let the Cape Malay food tempt your taste buds and get a feel of what else to do in Cape Town. Check out http://www.nielsentours.co.za/capetown-2/ for more
Penguins!
Need we say more? Who doesn't love these feathered black and white waddlers with their braying voices and beady eyes made famous in films like Happy Feet (and for good reason!) – penguins on land are cute but clumsy and do seem to be doing a little dance wherever they go. It's something to behold, especially en masse and Boulders Beach near Simon's Town is home to a colony of more than 2 100 African penguins (previously known as Jackass Penguins) which are classified as an Endangered species.
Photo Opportunities
Apart from obviously observing the penguins in their natural habitat, watching them swim and dive, feed their young (depending on the time of year that you visit) and preen themselves, you will have ample opportunity to take advantage of the glorious surroundings. Protected from the wind, strong currents and big waves by giant granite boulders (hence the name) rising from the clear waters of the Atlantic contrasting on the white sandy shoreline, you will want to make sure you've got your camera at the ready.
Support Nature Conservation
The area is protected as it falls under the Table Mountain National Park Marine Protected Area. The colony is one of the few land-based African penguin colonies in the world and as such, is rare which has made it a popular tourist destination. As seen on the South African National Parks site: "The Boulders Penguin Colony was established in 1983 and numbers increased from surrounding island colonies to bring breeding numbers to 3 900 birds in 2005. Since then there has been a decrease. The 2011 figures sit at around 2100 birds at Boulders Penguin Colony. The decline at Boulders and the global decline is the suspected result of:
• habitat destruction
• effects of oil spills and other marine pollution
• impacts of global warming on fish stocks and fish movement
• over fishing
• irresponsible tourism activities
• domestic pets/animals"
Your entry fee of R76 per adult per day and R41 per child, per day goes towards the conservation of this pristine area and its flora and fauna.
Sun, sea air and ice-cream!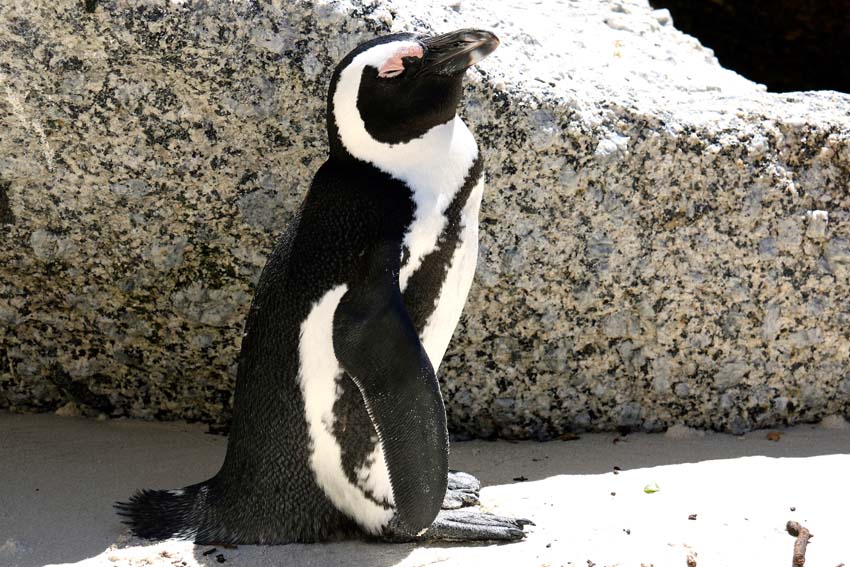 The fact that it is in a conservancy ensures that the Boulders beaches are always in impeccable condition, safe and inviting. It's a favourite spot to take local children to enjoy a swim in the warmer months because of being so protected – so pack a picnic basket and enjoy a day out with the family! Alternatively, you might want to enjoy an ice-cream and a stroll along the board walk while you take in the scenery and the sights and sounds of the birds. There are also a number of nearby restaurants where you can enjoy a tasty meal with a view. Note that it is best to visit at low tide (so check the local tide table before you leave) and that alcohol on the beach (should you decide to picnic) is prohibited. During summer, parking is limited so be sure to hit the road early to secure your spot!
SEE the City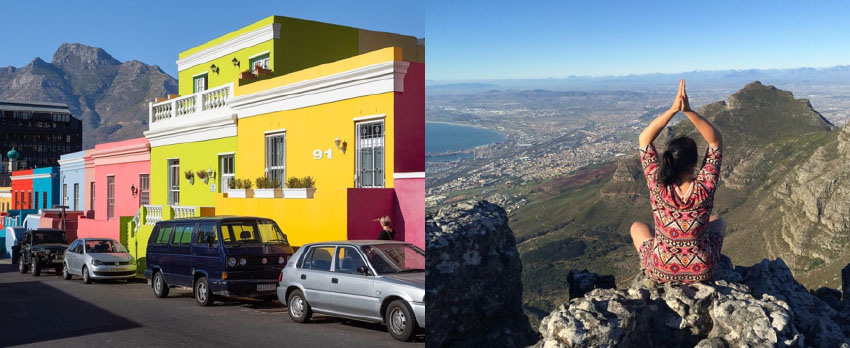 Take an Instawalk
If you want to experience a slice of life in Cape Town the way the locals do, then grab your mobile and join one the local Instawalks with CT Instagrammers – no one knows the city like the people who live in it and you'll very quickly get to see and explore lesser known haunts you'd otherwise not have been exposed to. Plus, you're likely to make a few friends along the way and take some great pics for the Gram.
Hike Lion's Head
Everyone knows that a sunrise hike up Lion's Head will give you unparalled 360 degree views of Cape Town to take your breath away. Grab a pair of trainers and be sure to tick this one of your list.
Hit a Local Market
With over 70 to choose from in and around the city, you're spoiled for choice! Whether it's artisanal food you're after, second-hand or antique goods or African arts and crafts, you can enjoy browsing one of the markets on a weekend morning and soaking up the Cape Town vibes, just like a local.
EAT the City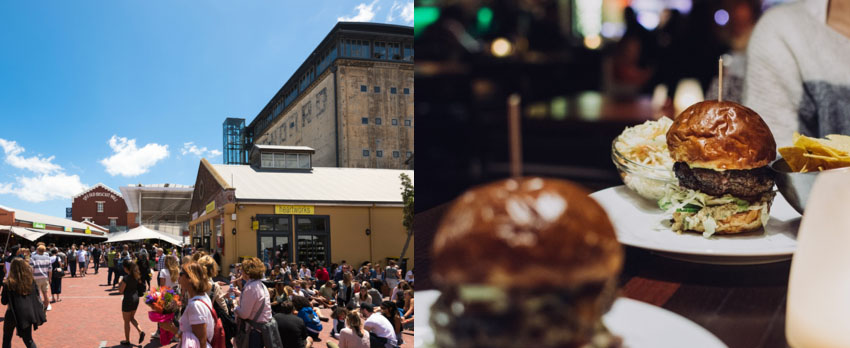 Fish and Chips
It's practically a Cape Town institution to enjoy a plate of fish and chips and again, you've a few places to choose from. You could take a drive to Hout Bay harbour and explore Mariner's Wharf or you could meander along to Kalk Bay and enjoy your meal taking in the sights and sounds of the harbour there. Even the Victoria and Alfred Waterfront is an option (albeit a slightly more commercial one).
Breakfast in Bree Street
Bree Street is home to a plethora of little coffee shops and eateries, perfect for a morning stroll and a place to have a bite to eat and enjoy a great cup of coffee. Explore on foot like a local!
Wine like the Locals
Wine is almost synonymous with South Africa's Mother City, which is hardly surprising since the Western Cape is the country's largest wine-producing region and is world-renowned for its outstanding wines. If you're keen to make a day of it, take a road trip to one of the local wine farms for a tasting or a food and wine pairing enjoyed with a view of the magnificent surrounds of the winelands. Constantia, Durbanville and Helderberg are all options.
Vegan or Vegetarian?
The growing trend towards healthier eating that leaves less of an impact on the planet has been firmly embraced in Cape Town culture and there are a number of restaurants that are plant-based as well as numerous main stream establishments that also offer vegetarian and vegan options on their menus. We recommend the Hungry Herbivore for our veggie-based friends and if you're in the mood for something a little more 'junk food' like, be sure to indulge at Lekker Vegan where you can enjoy a variety of vegan 'junk food' treats.
Fine Diners
Fine diners will have to plan in advance if they'd like to book a table at establishments such as The Test Kitchen, but there are at least 20 other excellent options to choose from that will delight not only your palate but provide an evening of absolute culinary gustatory pleasure.
Check out: The Hot List: The 20 Must-Visit Restaurants in Cape Town 2018: www.insideguide.co.za
You could also take a Food Tour of the City and Eat like a Local, here: www.tripadvisor.co.za
FEEL the City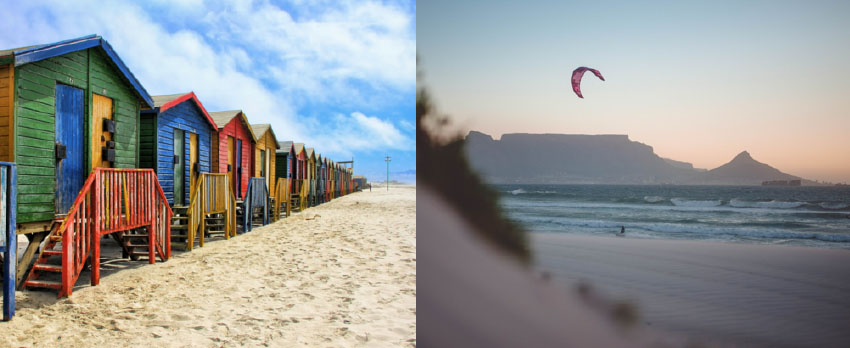 Beachin'
Whether during the day or at night, Cape Town's beaches are among the best in the world. Pack a picnic and enjoy the sunset in Clifton with the one you love. Or mozey down to Muizenberg for snacks and a little sand between your toes while you get a snap with the iconic coloured houses.
Kite Surfing
If the thrill of adrenalin and the rush of salt water over your skin and the wind in your hair is what gets you feeling most alive, book a day to enjoy kite surfing in Cape Town like a local. You could explore options in Bloubergstrand or Noordhoek, wind and weather conditions dependent.
The Great Outdoors
If being outdoors is what holds appeal, live like a local in Cape Town by taking in either a music concert, movie or sporting event in one of the many outdoor arenas in the city. It may be Kirstenbosch or Green Point. Check Facebook for relevant local events to choose from when you visit.
Touring
Sometimes you want the insight of a local guide who can share insider tips and provide more context for your experience. If you want to live like a Cape Town local and feel the city in a way that they do, book a walking tour through the CBD or Bokaap with one of the local tour guides. There are many others to choose from too, something for everyone that truly reflects the diversity and contrast of this incredibly colourful and vibrant coastal city you will never want to leave.
For some time now, Cape Town residents have grappled with the spectre of Day Zero – the day on which the regular flow of water will be cut by the city, in an effort to deal with the severe drought that is still underway.
Happily, Day Zero has been pushed back to 2019, largely through the water conservation efforts of the citizens.
While this means we're in the clear for now, the fact remains that we're unlikely to see the end of the drought any time soon.
With that in mind, here are water tips for tourists thinking of visiting Cape Town, starting with a particularly important one:
Held over two days, the Festival offers a number of events for attendees. Over forty artists performing at multiple venues makes this a true smorgasbord for music lovers.
Should the responsible tourist even come to Cape Town?
You'll likely be happy to hear that we'd love to see you in Cape Town – tourism is a major industry in the city, so you'll actually be helping.
As long as you stick to keeping your water usage down, you'll have no real impact on the situation.
All major events and attractions are still in place, just a little more careful about how they use water – this extends to restaurants, who've taken the extra steps of only offering bottled water in most establishments.
Choose water wise accommodation
Coming to Cape Town during the drought will, unfortunately, require a little extra research if you want to be water wise.
Many of those offering accommodation have implemented strategies to save water – but not all.
That means you should contact any accommodation you're considering before you book, to ask what strategies they have in place. Choosing a water wise accommodation option will not only help Cape Town, it will help you stay water wise while you're here.
Monitor your usage
The current water restrictions call on residents to use less than 50 liters of water daily.
Doing so isn't actually too hard; it just means sticking to some simple rules:
Re-use towels at your accommodation instead of asking for new ones

Flush less. Each flush uses between six and twelve litres of water – basically, if it's yellow, let it mellow

Don't bath, and keep showers to under 90 seconds

Don't let taps run – this applies to everything from washing dishes to brushing your teeth

Report leaks as soon as you notice them
Following these rules will help keep your water usage down, and help Cape Town stave off Day Zero.
And the nice thing about these little tips is they don't need to affect the rest of your stay: you'll still be able to hire a car and go see Cape Point, or climb Table Mountain.
Just because Cape Town's a bit dry at the moment doesn't mean we don't want to see you.
Rising to prominence through a breakthrough performance at Woodstock in 1969, Carlos Santana has a career that's spanned over half a century.
And now, he's coming to South Africa.
The Legend Of Santana
Born in Mexico in 1947, Carlos Santana was taught music from an early age: his father, a mariachi musician, introduced him to violin at the age of five and guitar at eight.
But while he may have started out playing violin, the guitar would be the instrument with which he made his name.
In the 60s, after several years working as a dishwasher and busking in his spare time, Santana took the leap to become a fulltime musician.
Over the next several years, his band's style of Afro-Cuban and Latin Rock attracted many fans, culminating in the electric performance at Woodstock – a performance that featured an eleven-minute instrumental and cemented the band's place in the minds of music fans.
The next several decades saw Santana's sound grow, incorporating blues, jazz fusion and more to create a unique sound.
The Divination Tour
Santana is currently travelling the globe as part of the Divination Tour, coming together in South Africa with special guests Mango Groove.
On 11 April he will be appearing at Cape Town Stadium, the scene of the 2010 Soccer World Cup and soon to be the host to the spectacle that is Carlos Santana.
The stadium in Green Point is itself a spectacle, a white edifice of curving metals.
The stadium in full swing can sit up to 55 000 people; the Santana concert will make use of a more intimate set up that will include seating on the field itself.
Getting there
While it is possible to use public transport to make your way to Green Point, the fact is that on the day you'll likely have a tricky time – crowds and surge-pricing are likely to affect any plans in that direction.
For those visiting Cape Town, a better option by far is to use a hire car: not only will this option allow you to get there easily and safely, you'll be able to visit the many fantastic bars and restaurants of Green Point and nearby Seapoint (always remembering to drink responsibly, of course).
And what better way to finish a night of Latin grooves than with a night cap overlooking Sea point promenade?