9 Best Restaurants in Cape Town with Beautiful Sea Views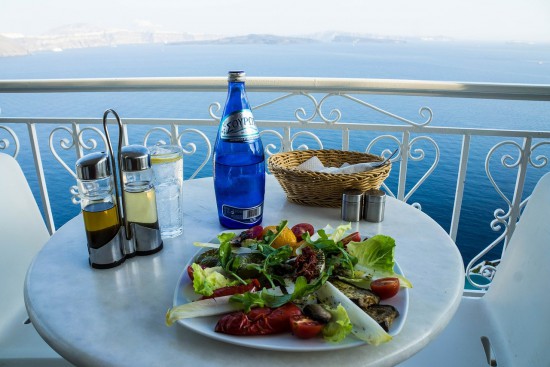 I think you will agree:
Cape Town has truly beautiful sea views.
Cape Town also has a wealth of quality restaurants to choose from.
But what if you could be eating at a restaurant that offers quality dining AND impressive views?
That would turn a simple lunch or dinner into a memorable experience.
Today, we will be showing you exactly which places in Cape Town offer the perfect combination of great food and great views.
BLOWFISH RESTAURANT – BLOUBERG
Blowfish has become an institution among Capetonians because of its selection of freshly prepared sushi and serene views over the Atlantic Ocean in Blouberg. Blowfish is a stone's throw away from the popular kitesurfing hotspot, Dolphin Beach. Not only can you catch glimpses of the shimmering ocean from any seat in the restaurant, you can watch water sportsmen showing off their keen skills.
The portions are hearty, and if you don't fancy sushi on the day, you can order a delicious bistro meal. Blowfish is open for breakfast, lunch and dinner. Sushi for breakfast anyone?
Opening Times: Monday – Sunday 6:30am – 10pm.
Address: 1 Marine Drive, Blouberg, Cape Town.
Tel: (021) 556 5464
See their menu.
SEVRUGA – V&A WATERFRONT
Sevruga at the V&A Waterfront is known for its delicious sushi and steaming dumplings, which you can enjoy while watching the back and forth of interesting people, as they go about their business at the harbour. Perhaps you would prefer to order tasty favourites, such as beef ribs and braised lamb shoulder from their varied menu. To quench your thirst, remember to try their house cocktail, the Sevruga. Popular among Capetonians and tourists alike, Sevruga certainly won't disappoint.
Opening Times: Monday – Saturday 12:00 – 11:00pm
Address: V&A Waterfront, Cape Town
Tel: (021) 421 5134
See their menu here.
SOTANO BY CAVEAU – MOUILLE POINT
When you dine at Sotano by Caveau, the ocean is literally across the street, so sweeping ocean vistas and crisp sea breezes are guaranteed. This outdoor restaurant with beautiful sea views is the ideal location to relax with friends over a wholesome meal and a glass of wine after a stroll along the promenade. For a little romance, book a table outside to watch the sun setting over the blue horizon.
Opening Times: Monday – Sunday: 7am – 10:30pm
Address: 121 Beach Road, Mouille Point, Cape Town
Tel: (021) 433 1757
See Sotano's menu here.
TWO OCEANS RESTAURANT – CAPE POINT
If you're craving a seafood platter of buttery crayfish, garlicky prawns and linefish, you would be wise to pay the Two Oceans Restaurant in Cape Point a visit. Although it is a bit of a drive from Cape Town city centre the scenery en route and the destination is totally worth it. The journey to Cape Point, the spot where the Indian and Atlantic Oceans are believed to meet, is incredibly picturesque and once there you'll be rewarded with flavoursome food and 360 degree ocean views.
Opening Times: Monday – Sunday: 9am – 5pm
Address: 1 Radio Road, Cape Point, Cape Town.
Tel: (021) 780 9200
Two Oceans Restaurant menu.
CAFE ORCA – MELKBOSSTRAND
Capetonians enjoy drives out of the city on weekends, with many of them travelling to sunny Blouberg and Melkbosstrand. These vibrant suburbs welcome crowds of visitors to their numerous popular sea-facing restaurants and bars. One such restaurant is Café Orca, a popular meeting place for a Saturday or Sunday lunch, owing to its unsurpassed view of Melkbosstrand.
At Orca, you'll be spoiled for choice. It is truly difficult to choose only one dish from the menu because they're all incredibly appetising.
Opening Times: Monday ­ closed. Tuesday 12:30pm – 3:30pm, and 6:00pm – 9:00pm. Wednesday to Saturday 11:30am – 3:30pm, and 6:00pm – 9:00pm. Sunday 11:00am – 3:30pm.
Address: 88 Beach road, Melkbosstrand, Cape Town.
Tel: (021) 553 4120
Look at Café Orca's menu.
NB: Due to Orca Café's popularity, you would be wise to call them and to reserve a table before driving all the way there.
GRAND CAFE & BEACH – V&A WATERFRONT
Positioned on a private beach in Granger Bay, Grand Cafe & Beach is an outdoor restaurant with an amazing sea view. With a focus on fresh produce, this cafe offers a variety of dishes simply prepared by their experienced chefs. Fit for both the discerning diner and the worldly traveller, if you're looking for a quality restaurant on the beach, Grand Cafe is certainly worth a visit.
Opening Times: Monday ­- Sunday: 12:00pm til late.
Address: Haul road, Granger Bay, Cape Town.
Tel: (021) 425 0551
See Grand Cafe's menu.
The Vue Restaurant – Cape Town
With 360-degree views of the city and beyond, The Vue offers picturesque views of Table Mountain, Lion's Head, Signal Hill and the expansive Atlantic Ocean. The Vue is wonderful for delicious meals and Tapas and perfect the perfect venue for some cocktails or sundowners.
The Tapas menu offers an array of wonderful treats for the discerning palate. These include a stuffed lamb burger, peanut and chilli beef wontons, tempura vegetables with soya and wasabi, Dukkah lamb koftas with minted yoghurt and beetroot hummus and much more.
Opening Times: Monday ­- Sunday: 07:00am – 22:00pm.
Address: 40 Chiappini St, Cape Town
Tel: (021) 418 3065
See The Vue's menu.
Thorfynn's Restaurant – Noordhoek
Situated in a lovely natural setting, Thorfynn's restaurant in Noordhoek offers fantastic sea views while you enjoy your hearty farmhouse breakfast, delicious lunch on the deck or a special dinner by candlelight. The lovely milkwood forest is ideal to wander through and you can make your way to a spectacular 8km stretch of unspoiled beach.
Thorfynn's offers a variety of culinary styles on their menu, including wood-baked pizzas, sushi, seafood and a South African potjie. All of Thorfynn's menu items are prepared using fresh, locally sourced, free range and organic produce, where possible.
Opening Times: Monday ­- Sunday: 07:00am – 23:00pm.
Address: Monkey Valley Resort, Mountain Road, Noordhoek, Cape Town
Tel: (021) 789 1391
Harbour House Restaurant – Kalk Bay
Perched above the rocks in the working Kalk Bay harbour, Harbour House restaurant offers exquisite views of the False Bay and the Hottentots Mountain Range.
The food at Harbour House is a fusion of elegant cuisine, offering beautifully presented dishes with a slight Mediterranean flavour. Because the restaurant owns their own boat, you can expect fish to go straight from sea to plate.
Opening Times: Monday ­- Sunday: 12:00pm – 22:00pm.
Address: Kalk Bay Harbour, Kalk Bay
Tel: (021) 788 4133
See Harbour House's menu.