A day trip to Simon's Town
2020-11-05 12:09:59
Your guide to exploring this gem in the Deep South
Far beyond the leafy suburbs of southern Cape Town lies a quaint naval town that offers the perfect day escape from the city. The town is rich in history and boasts beautiful Cape Dutch architecture along the M4 (this stretch is rather aptly also known as the historical mile) that winds through the town. The historical mile wraps around a gorgeous bay that is home to the South African Navy's Naval Base and pristine beaches with crystal clear blue water.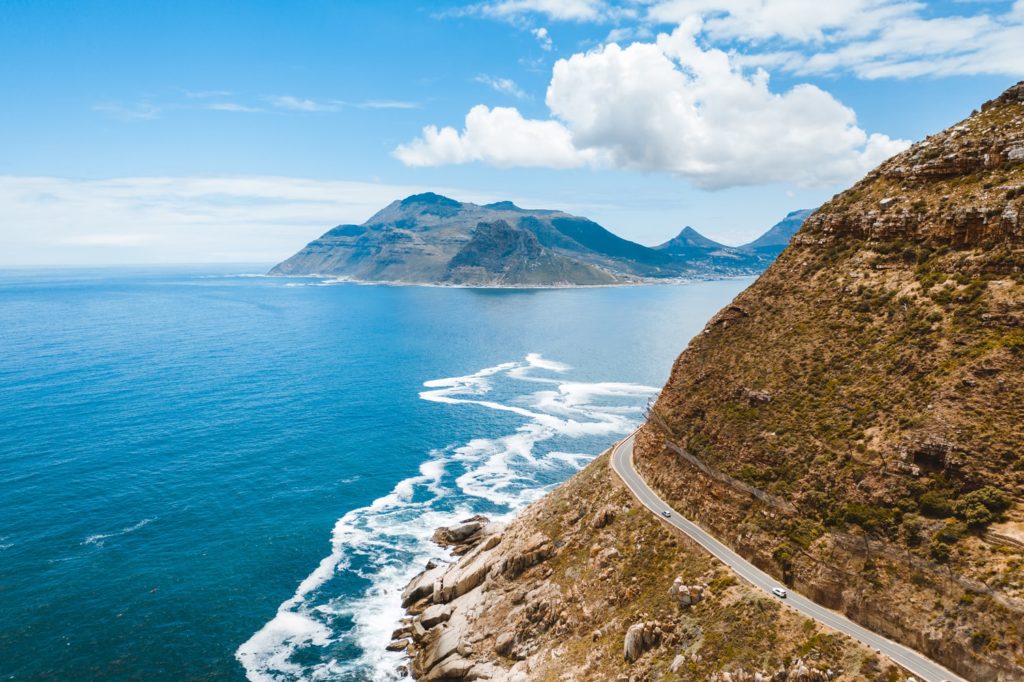 Enjoy the scenery from Chapman's Peak Drive on your way there
How to get there
The drive alone makes this day trip worth the while! If you're coming from Cape Town's CBD, we recommend driving through Camps Bay over Victoria Drive which offers jaw-dropping views, before winding your way through to Constantia and Lakeside onto the M4.
The M4 passes through the charming seaside towns of Muizenberg, Kalk Bay and Fishhoek, before reaching Simon's Town.
Where to eat
There's a lot to choose from in terms of restaurants in Simon's Town, but you'll want to go someplace that offers the local specialty: seafood and fish!
A local favourite with a deliciously fresh menu is the Lighthouse Café. The Lighthouse café draws you in with its light and airy beach house décor and keeps you coming back with its friendly service and mouthwatering menu. From juicy mussels to burgers to excellent vegetarian options, the Lighthouse Café has something for everyone.
If you're just after a good coffee and snack, head to Café Penguino, which is conveniently located right next to a souvenir shop. The family-owned café serves a good coffee and breakfast, that you can enjoy at their quaint tables on the sidewalk outside the café while watching the world go by, or on their veranda which also get a lot of light.
To round off your meal, or afternoon at the beach, head to JB's Ice Cream Parlour. With its traditional, old-world charm and wide range of exciting, delicious gelatos, sorbets and soft serves, JB's may be one of the best ice cream joints in the deep south. What's more, it's owned & run by Mr JB himself. Be sure to try the salted peanut brittle icea cream – you won't regret it!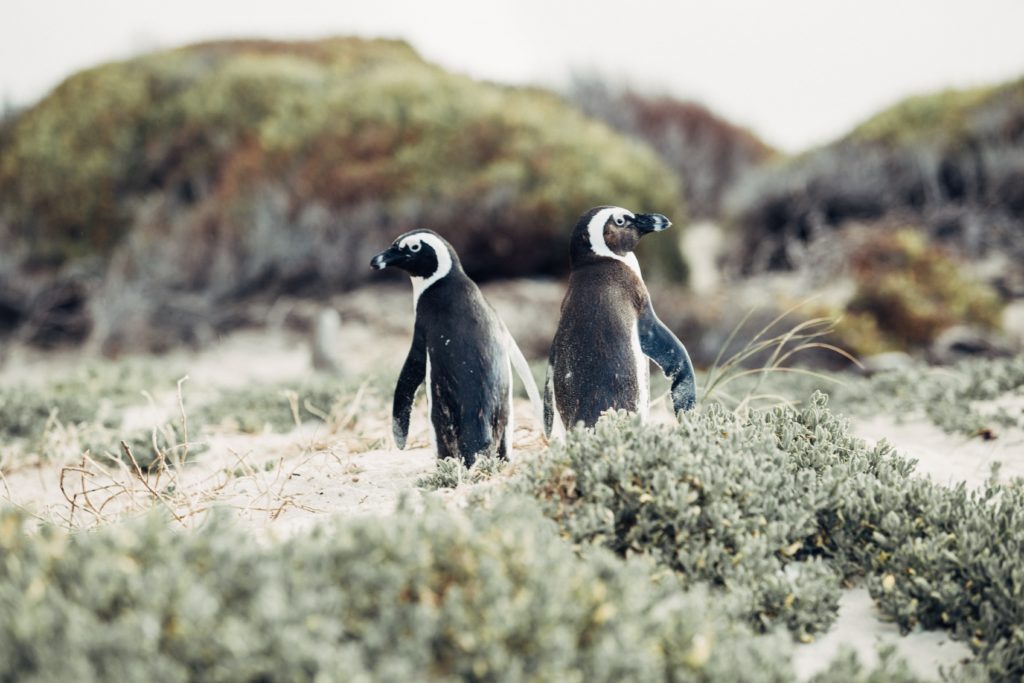 Meet the famous (and rare) African Penguin
What to do
Head to Boulder's Beach and make acquaintance with the local residents, the African penguins. The little crowd-pleasers love to waddle around the beach and swim between the large granite boulders. For the best view of the penguins, take a walk along the wheelchair-friendly boardwalk that will take you through the dunes & indigenous vegetation at Foxy Beach. The African penguin is an endangered species, so come prepared to pay an entry fee, which goes towards the conservation of their habitat. Be sure to familiarise yourself with the rules of the beach, which include not feeding the penguins.
Boulder's offers a good swimming beach, but for an even even better swimming experience, head a bit further down to Water's Edge. This beach is something of a secret beach & you won't find it on Google Maps. Just north of Boulder's beach, behind a wooden gate that keeps the penguins off the road, you'll find this secluded bay which offers a pristine white beach and a perfect swimming area. Bring an umbrella, towel and swimming gear and while away your day in bliss.
Especially if you're on an outing with kids (or just looking to entertain the kid in you!) you'll want to explore the Warrior Toy Museum. This small museum houses thousands of toy cars, airplanes, soldiers & dolls many of which date far back. Owner and curator Percyl Van Zyl has taken great care in putting together a delightful display of model trains, ships and miniature figurines. This little gem will take you down a nostalgic walk down memory lane. If you're a collector, you'll be happy to learn that an array of toys are also for sale.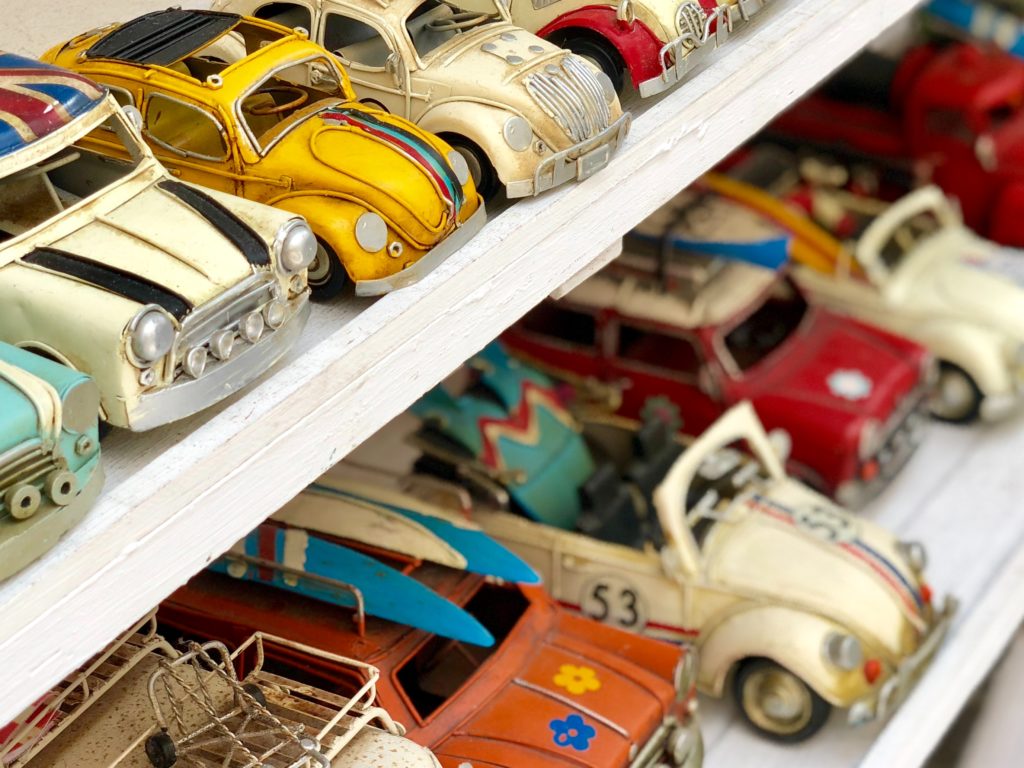 Take a trip down memory lane at the Warrior Toy Museum
Take some time to admire the statue of Just Nuisance, but not without knowing the back story! Just Nuisance was an enormous Great Dane that in the 1930s became the first, and only, dog to be enlisted in the Royal Navy. Just Nuisance grew up in and around Simon's Town harbor, and became friendly with anyone and everyone that looked like a Royal Navy sailor. As a very friendly dog, Just Nuisance was treated to all sorts of titbits, and started following sailors around, thereby earning himself the name "Just Nuisance". Just Nuisance started jumping on and off train rides to and from Cape Town, much to the annoyance of conductors who insisted that his train fares should be paid for. Not wanting him to be put down, many sailors pleaded on his behalf and eventually succeeded in having him enlisted as an Able Seaman. As a member of the armed forces, he would be entitled to free rail travel. In 1985, many years after his death, a statue of Just Nuisance overlooking the harbor, was erected in Simon's Town and still stands there today.
Simon's Town has so much to offer – we've only picked a few of our favourite activities –that you might want to consider spending a weekend there. Have you been to Simon's Town? What were your highlights?
Book a car
Enter your quote reference number to proceed with your booking.
Latest Blog Articles