Hunting for snow in the South African winter
2020-11-05 12:09:59
Tips and tricks on how and where to find snow in the Western Cape of South Africa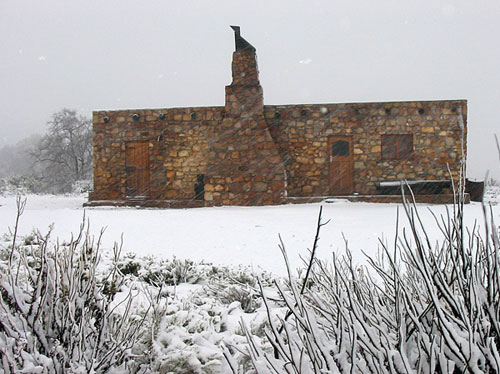 A rural winter getaway: the Goatherder House in the Matroosberg
A cosy cottage blanketed in dazzlingly white snow, a roaring fire in a stone fireplace, a good read and a mug of hot chocolate – it's the ultimate winter dream! Living in a country where the climate ranges from Mediterranean to subtropical, with sunshine aplenty and scatterings of rain, there's a certain kind of awe reserved for snow. Most South Africans maintain a child-like sense of wonder for it, especially because sightings of snow are limited to the movies for most. Luckily, there's a small window in winter where you'll be able to track down snow in certain areas of South Africa.
We've taken it upon us to collect information around some of the best areas in the Western Cape to find snow (all within driving distance from Cape Town), as well as how best to time your snow hunt. If you're heading to Cape Town for your next vacation, you may want to consider hiring a car and making a day trip in search of snow – the kids will love it!
How to track a snow front
Most of the fun lies in the sense of adventure as you closely monitor snow forecasts and strategise when the optimal time is for the trip to kick off. Your snow hunt starts by keeping an eye on the weather forecast and maintaining a degree of flexibility, so that you'll be able to up and go for the day when there's a potentially snowy day.
To the uninitiated, we'd like to introduce the snow reporting website aptly named "Snow Report" (snowreport.co.za). Snow Report SA provides a comprehensive report of any potential snowfall in South Africa, as well as images of snow sightings, via its Facebook (Snow Report SA) and Instagram (@snowreportsa) pages. Its snow charts provide insights into how much snowfall is expected in which areas, and the website links through to webcams around the country that are set up to monitor snow. Snow Report is your ultimate tool for tracking snow and the best starting point for planning your trip.
Where to go
Matroosberg Private nature Reserve
The Matroosberg Private nature reserve is an area that frequently sees a decent amount of snowfall when there's a cold front and is located a mere two-hour drive outside of Cape Town. The reserve is situated on the farm Erfdeel, a fully operational farm just outside of Ceres.
You have the option to stay in the oldest building in the area, the 100-year old Goatherder house, which is a quaint stone cottage that will meet all your expectations for the perfect rural winter getaway (including the stone fireplace!). The Goatherder house is nestled at the foot of the Matroosberg mountain and rather remotely situated. Note that there is no electricity, so you'll want to come prepared with warm clothing!
Klondyke Cherry Farm
The Klondyke Cherry Farm in Ceres is renowned for its consistent snowfall. What is the site of a cheery and colourful scene in summer, transforms into an idyllic winter wonderland in winter. While the snowfall is sometimes limited to dustings on the mountaintops, in a good season it can also snow so much that it covers the entire farm.
Klondyke is situated just two hours outside of Cape Town and can be visited for a day trip or an extended stay. The farm offers three self-catering cottages that are fitted with everything you'll need to keep you warm at night: electric blankets, heaters and a fireplace.
Swartberg Mountain Pass
If you're willing to venture a bit further from Cape Town, head to the Swartberg mountains near Oudtshoorn. It may be a lengthy five hour drive, but the Swartberg Mountain pass is often closed due to snow when there's a cold front, so you may very well luck into a proper snow sighting. While you're in the area, spend a few nights in Oudtshoorn, where you'll be able to find beautiful accommodation options that are steeped in grandeur and history.
De Wilge
If it's luxury you're after and you're happy to settle for beautiful, snow-capped mountains, you could consider heading to Nuy Valley in Worcester. Here you'll find De Wilge, an old wine cellar dating back to 1905, that has been transformed into two luxurious apartments. The self-catering units are spacious and stylish, and the more luxurious of the two features a Jacuzzi and private bath that overlooks the mountains and a citrus orchard. When it's cold out, you'll be able to spot snow on the caps of the majestic Langeberg mountains.
Preparing for your snow hunt
Wherever you decide to go, it's certain to be cold, so make sure you're prepared for it! You'll need a good pair of boots, long tops and jerseys that can be layered, a quality jacket and spare blankets.
You'll also want to be comfortable in tackling somewhat rougher terrain, so be sure to hire a car that will meet the challenge. At Vineyard Car hire, we can offer you anything from a 5-seater Toyota Fortuner to a 4×2 Toyota RAV4.
If you're lucky enough to come across heavy snowfall, make the most of it! Can you really enjoy your trip without a few gimmicky snow games? It may be a cliché but building a snowman is something of a rite of passage when it's snowing – there's no way you can get away without building one. And don't forget the snowball fight, as you've seen it in all of your favourite Christmas movies!
So there you have it, as unlikely as it may seem – if you pay attention to the forecast and know where to go – you could very well enjoy some decent snowfall in Africa!