Treat yourself to winter warmers at these top restaurants in Cape Town
2020-11-05 12:09:58
When winter comes around, you'll want to keep as warm and cosy as possible. If you've spent time in Cape Town during winter months, you'll know just how cold it can get! Besides keeping yourself well-insulated during the rainy weather, don't you think it would be lovely to dine near a homely fireplace? We love cosy fireplaces as much as you do, so we've compiled a list of restaurants in Cape Town that have fireplaces and fabulous menus from which to choose this winter.
Anatoli (Green Point)
Anatoli is a Turkish restaurant in in Cape Town that has a warm, friendly and inviting atmosphere. If you're seeking a unique dining experience along with scrumptious belly-warming food, then Anatoli should be on your list. The décor is reminiscent of the Ottoman Empire and their culinary delights are representative of the different regions of Turkey. Dining here, you may just forget that you're in Cape Town. Why not order the leg of lamb, which is absolutely divine and the perfect winter warming dish.
Anatoli opens at 7pm and closes at 10:30pm.
Note: As they are an evening venue, dining times are from 7pm until late. Kitchen closes at 22:30.
Browse their menu here.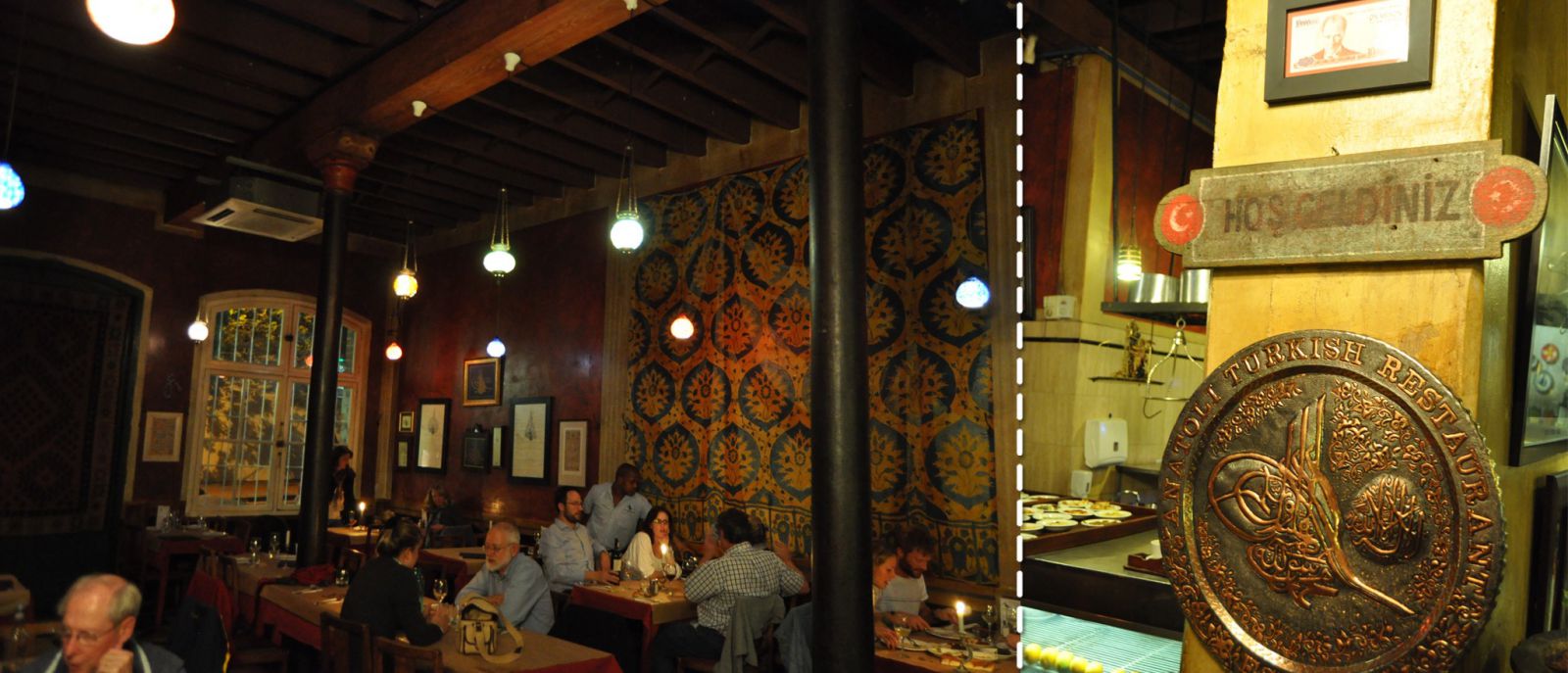 Image source: http://www.designerontheroad.com/
Azure (Camps Bay)
Azure in Camps Bay is the perfect venue to celebrate a momentous occasion. This restaurant is considered one of the top restaurants in Cape Town, as it boasts spectacular views over the Atlantic Ocean while diners are treated to out-of-this-world cuisine prepared by executive chef, Christo Pretorius. Dining at Azure in winter is as lovely as in summer. Escape the cold by enjoying the restaurant's romantic dinner and movie package. Alternatively, ask the maître d' to be seated close to the beautifully designed fireplace for an intimate and cosy evening of dining.
Browse Azure's menu here.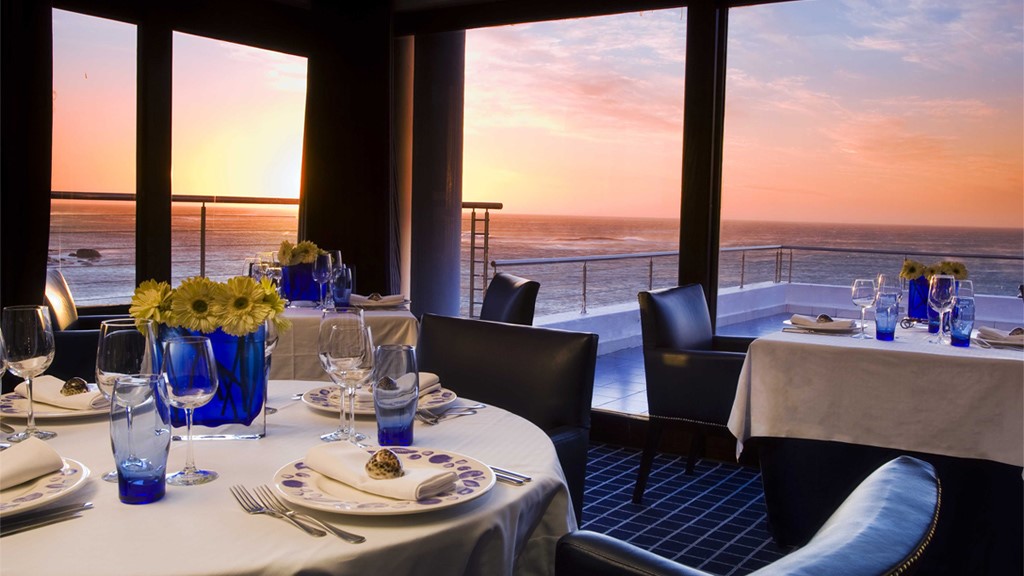 Image source: http://www.12apostleshotel.com/
Foresters Arms (Newlands)
Foresters Arms offers hearty pub-style food that many cannot resist. Therefore, expect a crowd when visiting this popular restaurant ideal for the young and young at heart. Foresters, or "Forries" as it is affectionately known, is the perfect setting for afternoon drinks under the watchful gaze of Cape Town's majestic mountains. Warm summer days present the perfect opportunity for guests to indulge in cold draft beers and gigantic burgers in the garden. As winter approaches, guests retreat inside to soak up the warm ambience created by the glow of a fireplace and the old-world charm of leather and wood. Forries is well-known for their Sunday carvery, offering a choice of succulent cuts of meat and seasonal vegetables.
Take a peek at their menu here.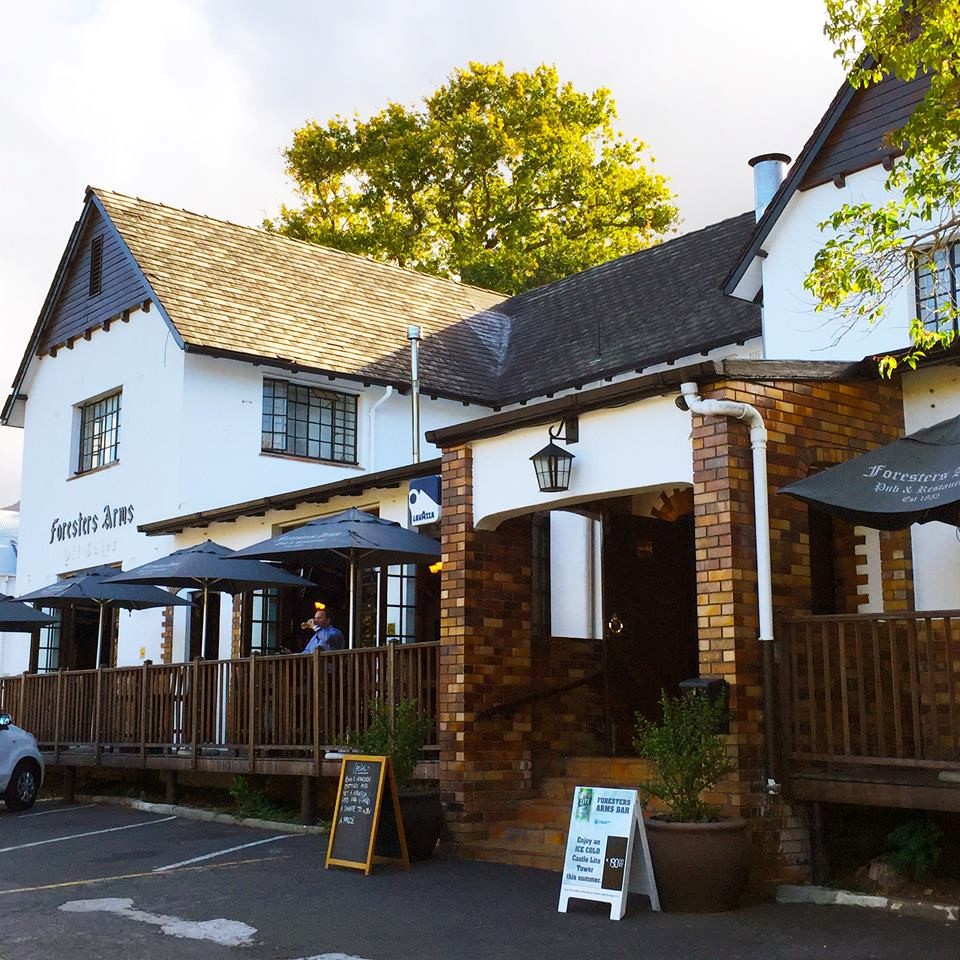 Image source: https://www.facebook.com/forrestersarms1852/
La Mouette (Sea Point)
La Mouette in Sea Point has five fireplaces in three of their dining rooms. One of their dining rooms is aptly named the 'Winter Lounge.' The atmosphere is infinitely inviting and their delectable food will see you returning for more. What may be even more enticing is that they regularly have specials, such as last winter's six course tasting menu for R295. You won't find a better package, especially with such a wonderfully romantic ambience. If you decide to reserve a table, try the bread with smoked butter, or the comforting bouillabaisse. Truly magnificent!
Read their exciting menu here.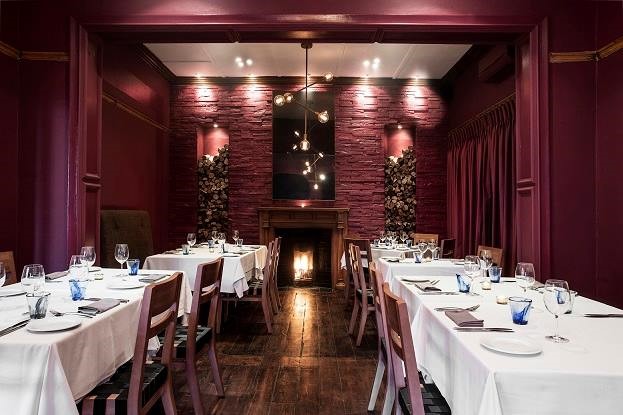 Image source: http://lamouette-restaurant.co.za/
Odyssey Gastropub (City Bowl)
Odyssey Gastropub in Bree Street has one of the best burger selections in the city. The atmosphere is relaxed and comfortable, with a log-burning fireplace to add to the cosiness of this vibey, upmarket spot where you can also listen to live entertainment and music while savouring the wholesome food.
See their menu here.

Image source: https://www.facebook.com/TheOdysseyZA/
Rick's Café Américain (Gardens)
Rick's Café Américain definitely has a flare for creating a happy and homely atmosphere. Inside, you'll walk past a polished piano up the stairs to the terrace, where gas heaters generate enough warmth for you to sit comfortably outside during winter months. Alternatively, you can sit downstairs and sink into a comfy plush couch nearby a roaring fireplace while enjoying cocktails and chatting to your dearest or nearest until late into the evening. Their food has a Moroccan twist and is absolutely delectable. Try the Moroccan fish cakes, mezze platter, or burgers. You won't be disappointed.
Look at their Moroccan-inspired menu here.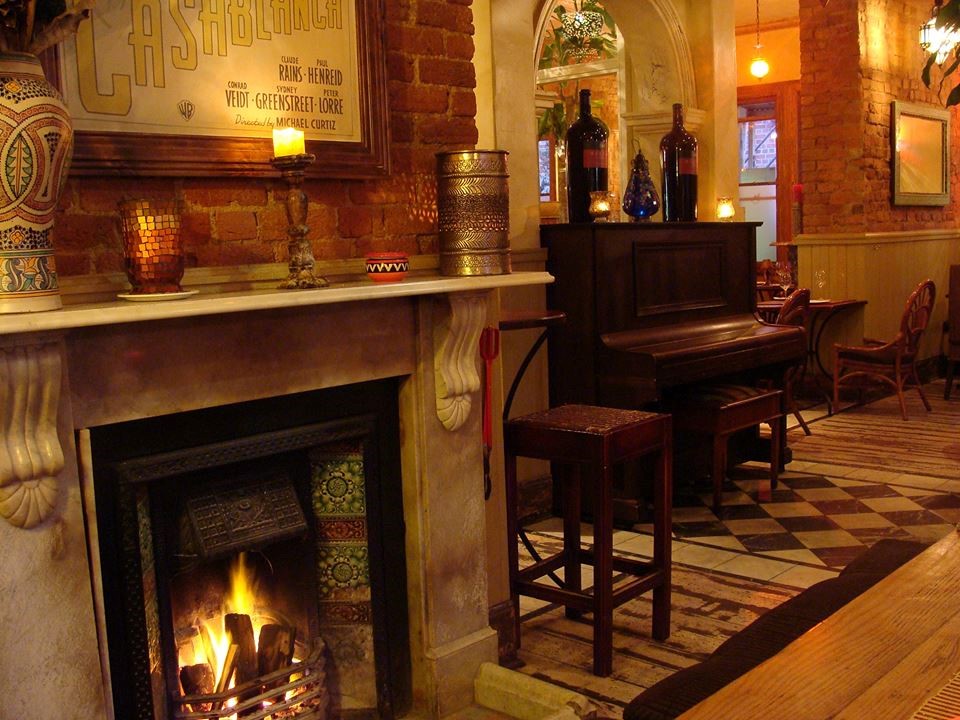 Image source: https://www.facebook.com/Ricks-Cafe-Americain-162602170452218/
Undoubtedly, there are many top restaurants in Cape Town from which to choose this winter. Other restaurants worth mentioning are:
Charcoal Dining – 50 New Church Street, Cape Town.
Aubergine – 39 Barnet Street, Gardens, Cape Town.
Kloof Street House – 30 Kloof Street, Garden,s Cape Town.
Societi Bistro – 50 Orange Street, Gardens, Cape Town.
HQ – Heritage Square, 100 Shortmarket Street, Cape Town.
The Roundhouse – Kloof Road, The Glen, Camps Bay, Cape Town.
Galbi – 210 Long Street, City Centre, Cape Town.
For a dining experience with a view, have a look at our list of the .